It's late morning in downtown Erie, Pennsylvania, and men, women and children are already lined up at the Erie City Mission waiting for lunch service to begin.
Roberta Lubman is a regular here. She receives about $200 a month in government food assistance from the Supplemental Nutrition Assistance Program, or SNAP. And with that money she buys basics like ramen noodles.
"I make my meals last, I cut them in two," Lubman said.
Even so, her food stamps don't go far enough. And about a third of the way into the month, Lubman starts having lunch at the mission to fill in the gaps.  
"It's not easy to get by," she said.
Earlier this month, President Donald Trump's Council of Economic Advisers declared that America's War on Poverty, which led to the creation of many social safety net programs, is "largely over and a success." That declaration is key to the case the Trump administration is making to impose new work requirements on people who get assistance for food, housing and other needs, and to make drastic cuts to those programs.
But the War on Poverty has not been won in Erie city. Roughly a quarter of residents still live under the federal poverty line and rely on government-subsidized housing, food and health care to survive. In some neighborhoods, nearly two out of three people live in poverty. Lubman lives in one of those neighborhoods.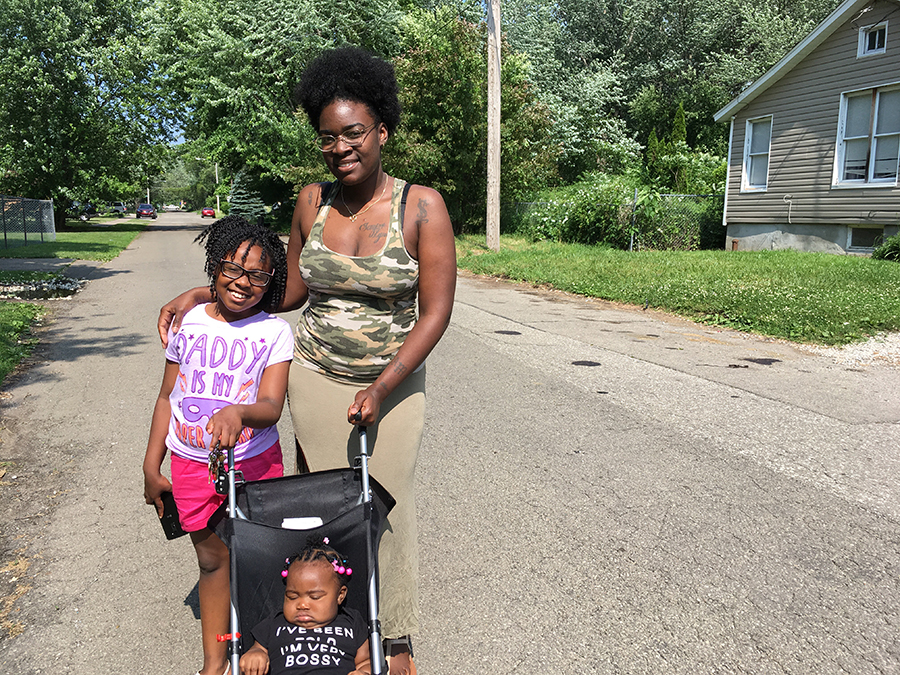 So does 25-year-old Chinae Williams. She grew up on the East Side of Erie in Harbor Homes public housing and lives there now with her daughters, Sierra and Amaria. The youngest is just 8 months old. Before she had the baby, Williams worked two jobs — as a nurse assistant and a hairstylist, making around $10 an hour. But the money never went far enough.
Because she's not working yet and has a baby, Williams' family gets the maximum SNAP benefit, about $500 a month. And because the baby is still mainly nursing — and because Williams inherited her mom's deep freezer — she can stretch her benefits by using the extra money to buy food in bulk. It's something her sister, who also has two kids, can't do.
"She gets the same amount as me. And by the end of the month, she's buying cash off of her credit cards for food," Williams said.
Williams has other ways of making the food last longer. Especially now, in the summer, when her daughter doesn't get lunch at school.
"I don't eat sometimes … I eat enough that I need to breastfeed," she said.
The Trump administration wants to impose steeper work requirements on people like Williams. Estimates are the new requirements could cut as many as a million people from the SNAP program over the next decade. Cuts will be coming to the other safety-net programs, too.
"They want more from us. We have to figure out where are we going to get it from," Williams said.
For Williams, who is looking for work now, that may mean finding more hours. Maybe even taking on a third job, which would push up her daycare costs. That's if she could even find more work in Erie, where low-skilled jobs pay minimum wage.
"I'm just at loss as to how am I going to get that option, how it's going to open up to me, what is going to open up to me," she said.
Sabrina Tolbert is a social worker who grew up on Erie's East Side and still lives here. Tolbert spends her days helping people like Chinae Williams gain financial independence by helping them sign up and pay for driver's education classes and teaching them how to raise their credit scores.
"A lot of people are depressed because they think they're never going to get out of their situation," Tolbert said. "They're working two part-time jobs. They're just worried about living day today. There's no looking at the future."
The proposed legislation that would cut the SNAP benefits also calls for funding to expand state education and training job programs. Tolbert said that wouldn't matter because the jobs just aren't there.  
"You're lucky if you can find a job, you know, and again that would be working at McDonald's or somewhere like that."
She said about half the people she grew up with left Erie long ago for cities with better job markets. Now Erie is so poor and has so much need, the ones still here mostly work in social services.
"Might be all that's left for us. You know, if you have a degree or something, you can get into jobs like that that might be kind of all that's left for us," she said.
At the end of the most days, Tolbert heads home to her second job. Even though she's one of Erie's lucky ones with full-time work, at night she does transcribing. That extra hundred dollars a week, she says, really helps.