What is the estimated current income of an adult in their mid-30s who grew up in Erie County (even if they moved away)? What if they're black? What if they grew up in a low-income household? It depends on their gender and the census tract, really, but that's just a sampling of the insights available  in exploring the rich data provided by Opportunity Insights Opportunity Atlas. ($46,000, $22,000, $20,000; for those interested). It's a firehose of information, but it's replete with valuable insights necessary to confront today's poverty toward achieving outcomes based in fact.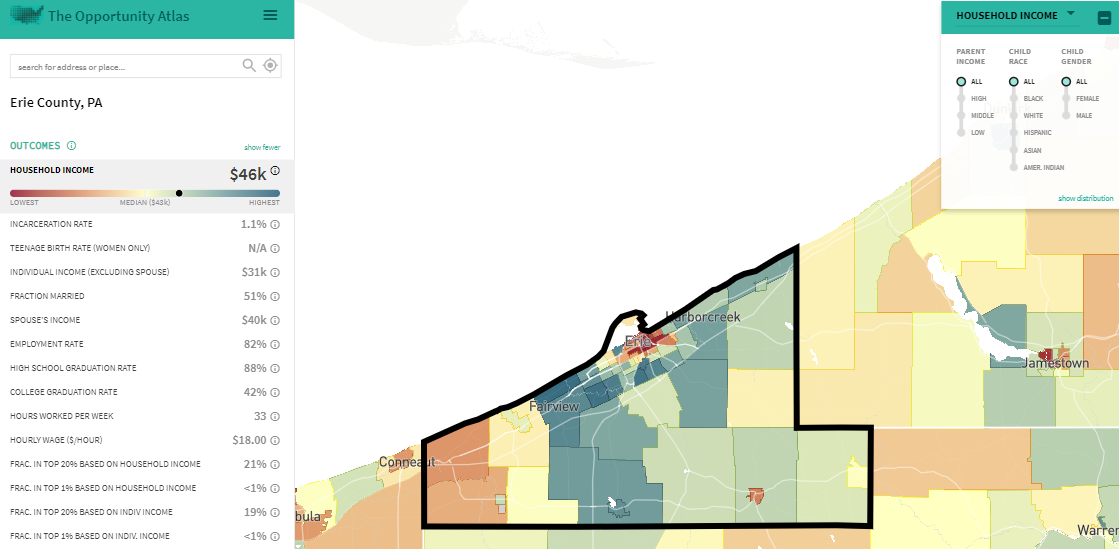 There's a duality to the issues raised through this analysis. The first being that, like wealth, poverty is generational. Paul Jargowsky finds that more than one in four of the black poor and nearly one in six of the Hispanic poor lives in a neighborhood of extreme poverty, compared to one in thirteen of the white poor (it's 26.9% of Erie's Black residents and 18.6% of Hispanic or Latino, compared to 14.5% of White). Black Americans are far more likely than whites to be "stuck in place", two-thirds of Black Americans brought up in the poorest neighborhoods remain in the poorest quarter of neighborhoods after a generation, compared to only 40% of White Americans. A 2018 study by Chetty finds that, after controlling for parental income, Black males have lower incomes in adulthood than white males in 99 percent of census tracts (median income of Black households in Erie County is just over $28,000, it's over $51,000 for White). The data in these studies, and on the map, shows that a person raised in poverty will more often stay in poverty, or at least experience a lower threshold of growth. Utilizing the Opportunity Atlas this shows across all demographic groups, see below: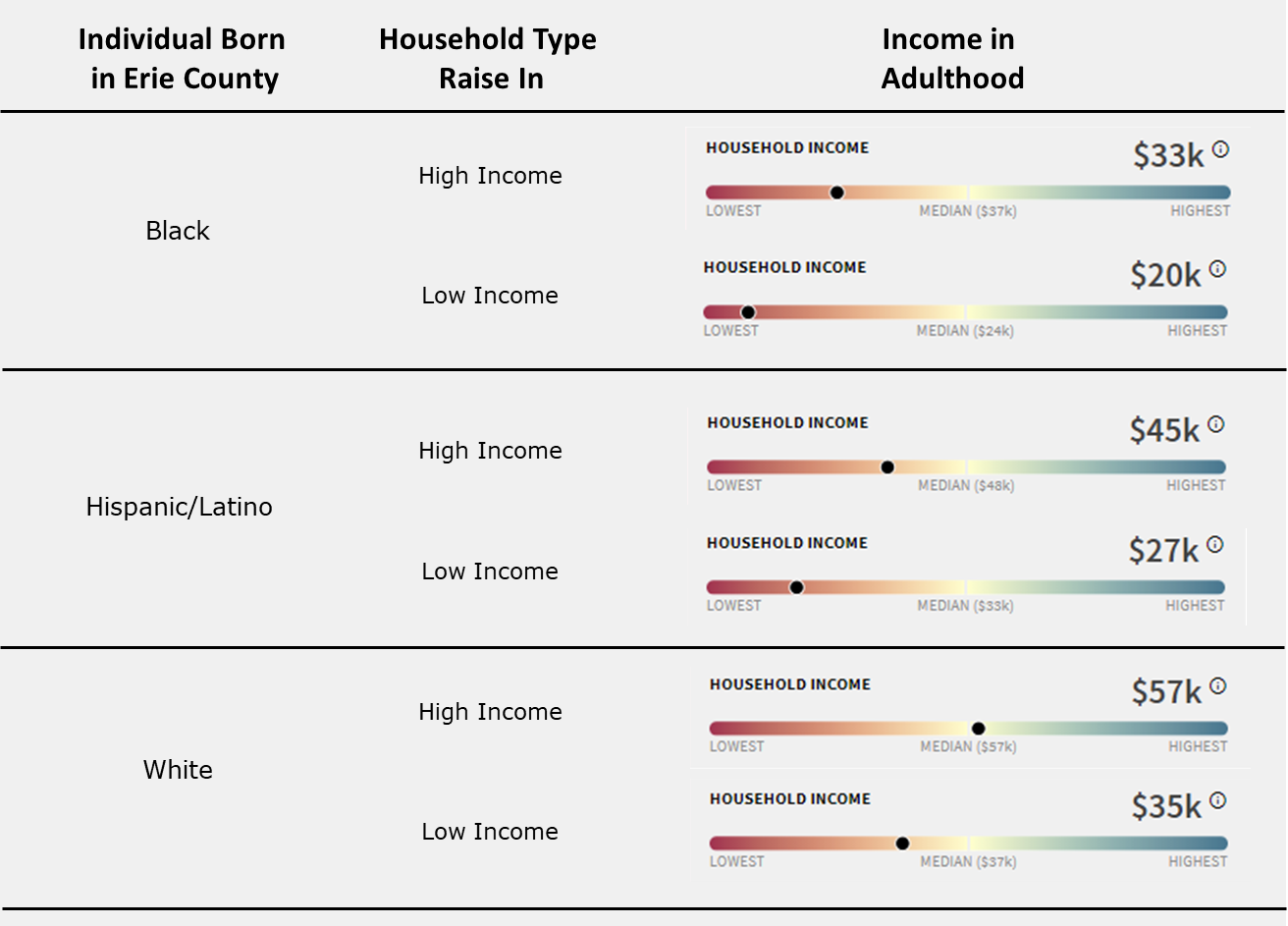 The second nature of these issues is that of proximity; the Atlas' map does a job in rooting us to place, but academically the question surrounding a person's right to succeed where they live confronts several assumptions. The problematic question of "why don't you move?" is addressed succinctly in Chris Arnade's discussion with Timothy Carney, and one of the Atlas' best inherent features is that it is reporting out on the earnings of individuals based on where they grew up, not where they moved to. That said, in a 2015 study, Chetty examined a dataset of over five million families who moved across counties in the United States, finding that every additional year of childhood spent in a better environment significantly improves a child's long-term outcomes. The study found that at least 50 percent of the variation in intergenerational economic mobility across the nation can be linked to the causal effects of neighborhood exposure during childhood.
The following Brooking's recommendations are routine policy fodder, but the studies discussed today and ones like them are reporting more and more-concrete data on the detrimental effects that help to bolster the argument for measures which will assist in remedying the situations. As analyses such as these continue to strengthen the argument of the unignorable cause and effect of poverty and future prosperity, and the further inequality among the demographic lines, we will strive to keep them front and center.
Recommendations from Brooking's November article on Concentrated Poverty:
Community-led strategies to spur economic improvement: improving public schools and transportation, reducing crime, providing better health care, increasing access to healthy food options, and encouraging local entrepreneurship.
Ensuring existing residents can remain and share in an improving neighborhood: this requires government actions such as rental assistance for families, inclusionary zoning, and encouragements for developers to construct affordable multi-family housing.
Ensuring existing businesses can remain and share in an improving neighborhood: local governments need to promote employment training, apprenticeship programs, incentives for local hiring, and other steps to make it more likely that long-time residents can acquire new jobs in an improving community
Build a foundation of homeowners among modest-income renters: This program enables groups renters to purchase their building as a co-op, but it prevents the new owners from selling their shares at market rates, thereby helping to retain a continued supply of affordable units for purchase (such as through versions of Washington D.C.'s Tenant Opportunity to Purchase Act (TOPA) program.)