COLUMBUS, Ohio — The national economy continues to hum right along, riding a nine-year wave of recovery from the depths of the 2008 financial crisis. Unemployment is low and confidence is high among consumers.
But inside the numbers, the U.S. economy is still churning out both winners and losers. New economy jobs, such as those in tech and creative fields, offer a path toward higher incomes and more opportunities. While manufacturing jobs, even as they've increased in the last few years, still make up a far smaller part of the U.S. workforce than they did just two decades ago and are not the wealth creators they once were. 
While much is made of the country's regional urban-suburban differences, the divide between the old and new economy is changing the country as well.
Two Ohio cities, Columbus and Dayton, sit just 70 miles apart but are stark examples of what that growing divide looks like.
Columbus, home of the state capital and Ohio State University, is riding a knowledge economy into prosperity. Buildings are going up and being renovated as new businesses arrive chasing a growing population.
Just an hour west, Dayton is trying to shake the rust off its manufacturing roots and find a place in the new world. Blocks of downtown Dayton are empty and local leaders are working and wondering how to refill them. 
Where those cities stand today and where they seem to be heading is remaking a crucial part of the American political landscape.
Columbus: College Grads and Building Cranes
Driving through the streets of Columbus, the words "Rust Belt" feel far away. The skyline is dotted with building cranes where offices, apartments and mixed-use structures are rising and where old edifices are being repurposed and rebuilt.
Away from downtown, on North 4th Street, Kevin Lykens is converting the red-brick Budd Dairy Building into a 14,000-square-foot food hall. The owner of Lykens Companies, he says the building already has 70 restaurants that have applied to move into the space. And he's not worried about foot traffic to support them — the refurbished space will be only steps from the Columbus's Short North hipster enclave, where he also has apartment buildings.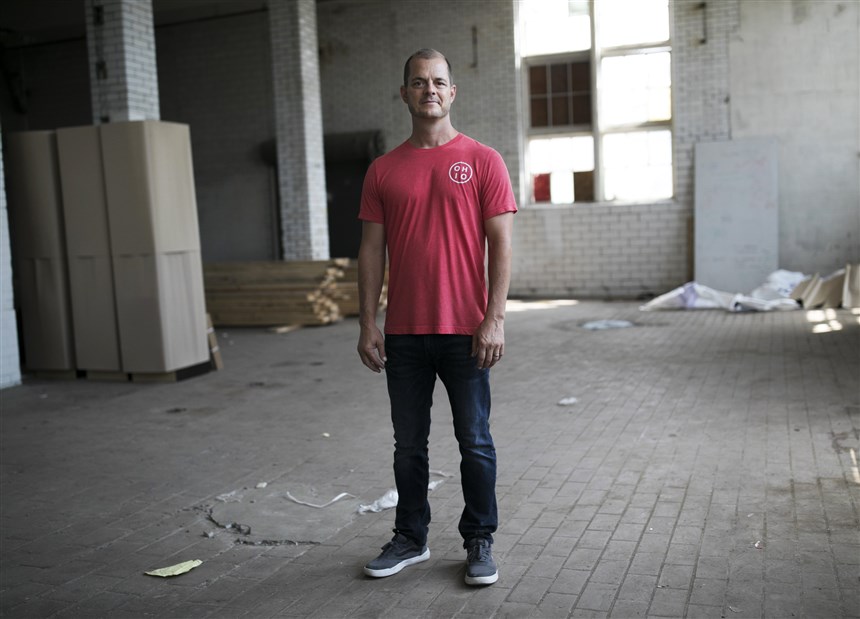 "They want to live in this area. They don't care as much about square footage. How do they get a cool space in a great area and meet their budget?" Lykens says. "We're building like crazy, we're building everywhere. I've never seen this type of growth in this city in the past." 
Since 2010, Columbus has grown by more than 11 percent, adding nearly 100,000 residents. And it's not just how many are coming to the city, it's who is coming.
The state capital and Ohio State draw people from across the state, filling the city with a young, educated labor pool. The median age in Columbus, 32.7, is seven years younger than the rest of the state. And the percentage of people with college degrees, 34.8, is eight points higher than the state as a whole.
A recent analysis in The Wall Street Journal found that more than a third of OSU students, 36 percent, stay in the Columbus area after graduation. And the economic growth has fueled a larger Columbus migration, says Josh Lapp, a principal at Designing Local, a community development firm that specializes in historic buildings.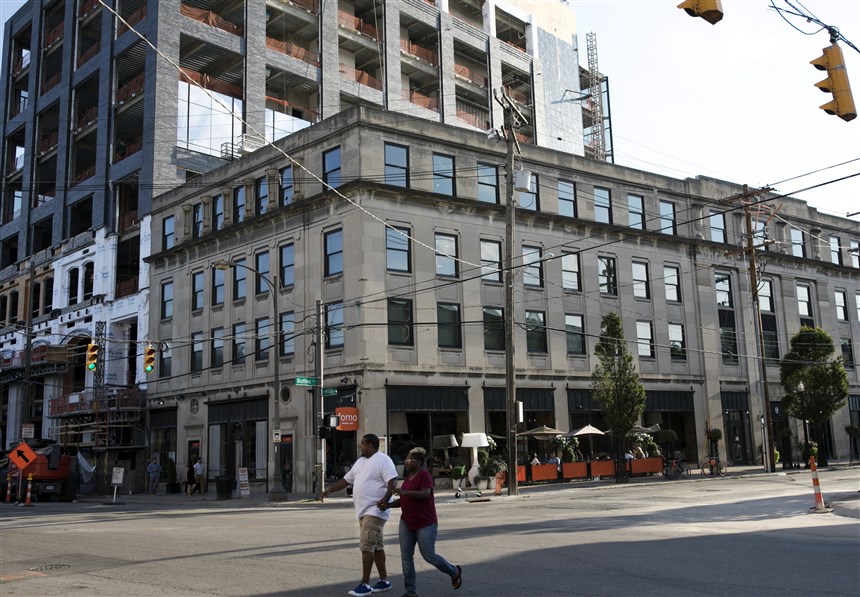 "Columbus has changed a lot, in part because some of those people have stayed because they got jobs. That has helped transform the city into a much more youthful, vibrant feel, which makes people actually want to stay," Lapp says. "But now people are actually, like, moving here from elsewhere." 
Some companies are taking notice of what Columbus has to offer. Chipotle Mexican Grill moved its headquarters to the city this year. And Amazon placed the metro area on its shortlist of possible locations for its HQ2, second headquarters, with the likes of New York, Los Angeles and Washington.
Perhaps it's not surprising then that, politically speaking, Columbus has taken on more of a big city cast.
You can see the changes in the 2016 presidential results, when Ohio as a whole flipped toward President Donald Trump after voting twice for Barack Obama. But Franklin County, the home of Columbus, continued trending in the opposite direction. In 2016, Franklin went for Hillary Clinton by 26 points. In 2012, Obama won it by 23 points.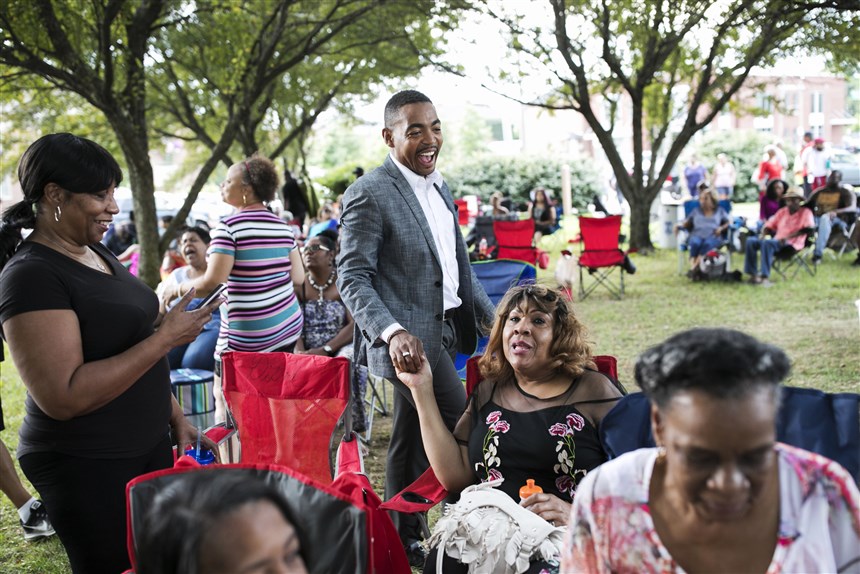 You can also see it more tangibly on the ground. In January, the Columbus City Council elected its first openly gay president, Shannon Hardin, who is also African-American. The city, he says, is full of people like him.
"Columbus is thriving because we are smart and we're open. We're diverse. We're a city that's on the move. We are growing," Hardin says. "But we don't want it just to be big. We want to be better."
"We believe that with the diversity that is coming in, with the culture that we are creating, with the strong job market and with the collaborative spirit of public-private partnerships that we will get there," Hardin added.
In other words, the city's political and cultural environment is tied to its economy in Hardin's eyes. And in an era when much of the political talk, particularly among Trump supporters, is centered on workers who have been "left behind," Columbus stands in stark contrast.
Young, educated and wealthy — and only growing more so — it represents pockets of economic winners, even in one of the industrial Midwest's crucial "Trump states."
To the extent Columbus has economic troubles, they are largely coming in the form of too many companies and people wanting to move downtown. The city's real challenges come with managing growth. Too many people and businesses want to move downtown and a lack of parking is now a challenge as the city tries to determine how it can improve its public transit system — and get more people to use it.
Dayton: Looking for What's Next
Those are the kinds of problems they would love to have a short drive on I-70 in Dayton, where streets are lined with buildings waiting to be refurbished, including the massive Dayton Arcade, more than 300,000 square feet of retail space that closed in 1990.
Behind the structure's castle-like facade is a crumbling interior waiting to be rebuilt. There's an ambitious $70 million proposal to turn the building into an innovation space — partnering with the University of Dayton and local artists and retailers — but financing for the deal has not yet closed and there have been several false starts in the past.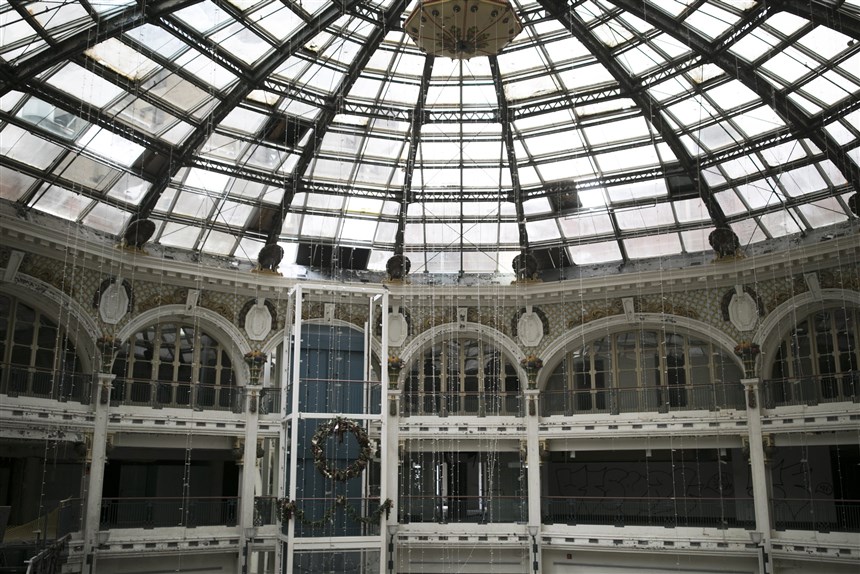 City leaders hope a rebuilt arcade will take Dayton back to it roots in innovation, particularly in manufacturing. Electronic ignition systems and spark plugs were once built here, and even though the city was walloped by a series of General Motors plant closing over the decades, manufacturing is still a central part of the city's DNA.
More than 13 percent of the employees in Dayton's home county, Montgomery, work in manufacturing, compared to about 7.5 percent in Franklin, Columbus's home county.
"We're at our core a manufacturing town." says Julie Sullivan, executive vice president for regional development with the Dayton Development Coalition. "I don't see how manufacturing goes away because we will always have things. And somebody has to make those things."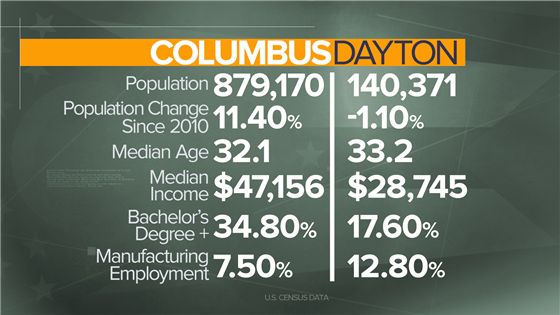 And there's still plenty being made here. In fact, the giant General Motors Moraine Assembly plant that closed has been converted into an automotive glass factory.
Only now the owners are Fuyao Glass America, a subsidiary of a large Chinese company, and there are a lot more robots on the production line. 
"It's state of the art," says Jim Reed, the plant's lamination production manager, who used to work at the GM plant. "We have well over 500 robots here. You know, there's programmers for that. We have CNC (Computer Numerical Control) machines. But it's much cleaner and brighter and just a lot better working environment than what it used to be years ago."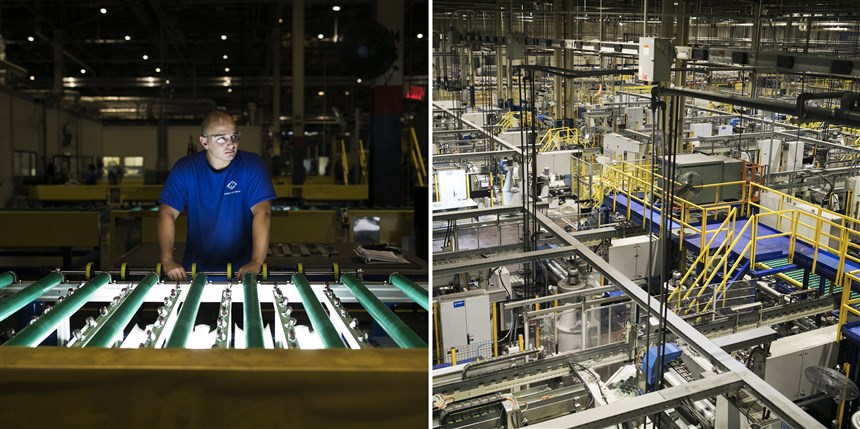 The jobs also pay less. The starting wage at the Fuyao plant is generally $12 to $14 an hour, which is in line with what many local small manufacturers pay, and there are benefits. But those numbers are about half what the General Motors production jobs paid at the Moraine plant.
And those lower manufacturing wages are not just about one plant, they are across the sector and reflected in a lower incomes in the area. Since 2000, both Dayton and surrounding Montgomery County area have seen steep declines in median household income when adjusted for inflation — by roughly more than $9,000 for each. Nationally those figures have dropped as well, but only by a little more than $1,000.
Those are not the kinds of numbers that attract workers to the area or get young people fired up about staying in town to work at the local shop. Many people voice concerns about a shortage of manufacturing workers in the area. And employers say they have positions available now for the candidates with the proper skillset.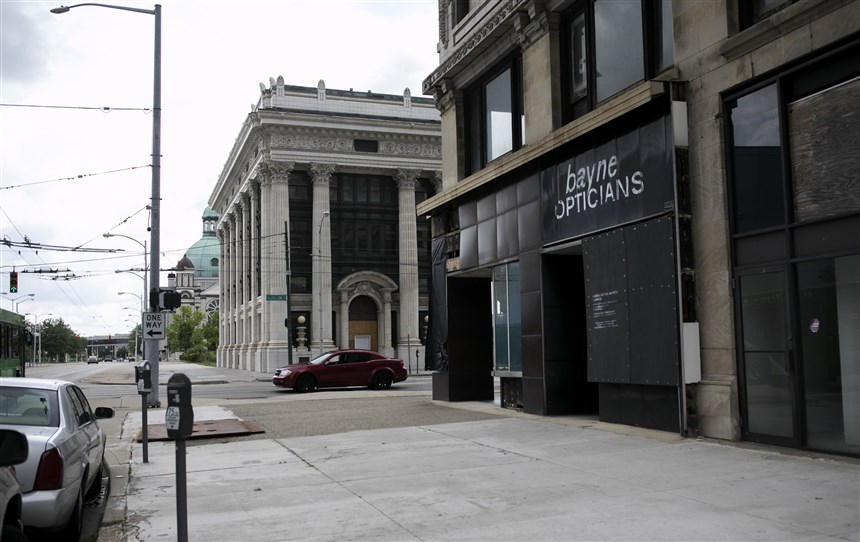 Those problems are visible in the data. Since 2010, Montgomery County has actually seen its population decline by a percentage point. That's as the nation as a whole has grown by more than 5 percent. And the county has also gotten grayer in that time as well. With a median age of 39.4 years, it is older than both the national and Ohio medians. 
If those numbers sound like a good fit for Donald Trump and his populist message, the 2016 election showed they were, marking a change from the past.
In 2000, even as Ohio voted for Republican George W. Bush, Montgomery County voted for Democrat Al Gore. And Montgomery County voted for Barack Obama twice.
But in 2016, Montgomery narrowly went for Trump, the first time it had gone for a Republican since 1988. This is a place where the promise of "fixing the economy" carries weight.
To be clear, despite its economic troubles, Dayton is not experiencing especially tough times in 2018. Like much of the U.S. economy, the city has seen improvement.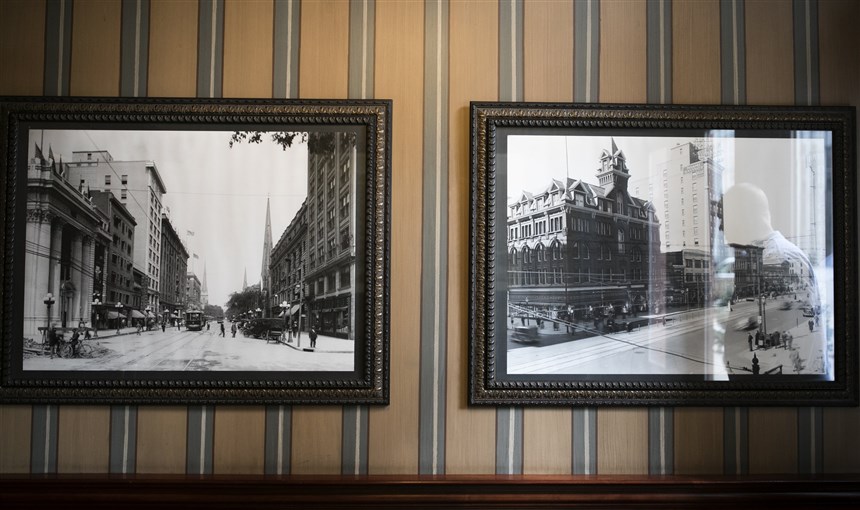 And there's more than just manufacturing in the area. CareSource, a Dayton-based nonprofit managed care company that was created to serve the region's low-income residents, has grown, particularly as Medicaid has been expanded under the Affordable Care Act. It now serves cities across Ohio and in four other states and aims to do more than just help with health care. It also helps people overcome hurdles to finding employment. 
"What we're seeing is 40 percent of the folks that come through our program have been recently released from the criminal justice system, so jail or prison, and/or they have a diagnosis of substance use disorder or severe mental illness," Karin VanZant, executive director of Life Services at CareSource. "We're really talking about those that have had some significant barriers to entering into the job market."
The goal is to get those workers back into the labor pool in Dayton, and elsewhere, VanZant says.
The company's growth has it building a new seven-story office space in downtown Dayton that is set to open next year. CareSource is already the downtown's largest employer, with more than 2,000 workers.
It's a success story in a city that has had a hard run and it's in a growing area, health care, but even with the good news, the aging, emptying Dayton area still finds itself operating in a different economy than young, growing Columbus. 
In June the Montgomery County unemployment rate was 5.3 percent, almost a point higher than Franklin County's 4.5 percent. Those numbers are about more than different job pools and labor forces. Behind them are two very different cities, 70 miles apart, with markedly different attitudes about where the economy is leading.