Industry Trends
Analysis Categories
What does this measure?
The trend in industry GRP, Employment Total, Earnings, and Tax Revenue by industry sectors for Erie County for years 2010 through 2017. Tax Revenue reflects federal, state, county, local, and special taxes earned on production and import.
Why is this important?
While some industry sectors outperform others in certain variables, it is important to weigh their impact by the variable at hand, and how important that is to the local economy.
How is Erie County doing?
GRP
County-wide, GRP is dependent on the Manufacturing sector, although it has shrunk from 37.9% to 28.6% in the past 9 years. While no one sector has captured that difference in GRP, the Finance and Insurance (11.9%) sector has grown by at least 3% since 2010.
Employment
Employment totals for Educational, Healthcare, and Social Services has shown steady majority at 19.1% of all employment in 2018. While Manufacturing hovered over 14% for several years, for the latest data year it sits at 12.79%. 
Earnings
The Public Administration sector, while accounting for only the 5th largest GRP by sector, places as the 3rd highest in total employee compensation paid out for the County for the total employed population and naturally negative Tax Revenue. Likewise, the Educational, Healthcare, and Social Services sectors show that while for the latest data year a GRP contribution of 11.82%, it contributes 2084 of all employee earned dollars. 
Tax Revenue
Conversely to its GRP contribution, Manufacturing represents only 5.57% in value add to the tax revenue dollars in 2018, whereas the Real Estate Rental and Leasing sector is the leading contributor to the County's tax revenues at 24.85% while only representing 8.10% of the GRP in 2018.
EVS Indicators
EVS analyzes the data in each topic category using indicators, which report a targeted and digestible number, rate, or amount to represent Erie County as a whole. While this does not cover every aspect of the topic, it assists in establishing Erie's performance relative to the prior year(s). The indicators for the Business Industry Trends topic are: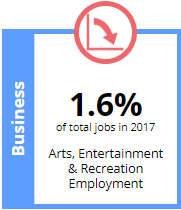 This indicator measures the total percentage of employees in Arts, Enterainment, & Recreation related businesses for the latest data year in all of Erie County. Arts and culture bring distinction and visitors to a  region, and employment in the sector is a measure of the sector's financial strength and contribution to the local economy. The trend for Arts, Entertainment, & Recreation Employment is down and worse from 2016 to 2017, from 1.7% to 1.6% within the County.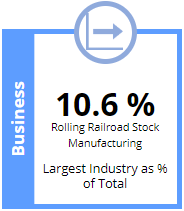 This indicator measures the largest industry sector as a percent of the total Erie County market by output for latest data year. The largest industry sector in an economy is the determinant of that area's legacy in business and workforce skillset, and a change in such would mean a significant upheaval of the balance of the local economy and supply chain. The trend for Largest Industry as Percent of Total is unchanged from Rolling Railroad Stock and Manufacturing in 2017 to 2018, at 10.6% of the GRP.
How does Erie compare to its Peers?
About this Data
Analysis performed by Data Center on data from Emsi, 2019. Variable definitions included in the infographic