Heavy Alcohol Consumption
Analysis Categories
What does this measure?
At Risk Drinking Behavior by age, sex, educational attainment, and income level. Banded in 3 year increments since 2000 for both Erie County and Pennsylvania. At Risk for Heavy Drinking defined as males having more than 2 drinks per day and females having more than 1 drink per day.
Why is this important?
Excessive drinking increases an individual's risk of poor health outcomes, including motor vehicle crashes and unintentional injuries, and is often a contributing factor in child abuse, domestic violence, suicide, and homicide.
How is Erie County doing?
Age
The consumption of alcohol for Erie (12%) is double compared to the Penssulvania state level (7%) for the people aged between 18 and 44. Whereas, the consumption of alcohol for the residents aged 65 and above in Erie county is 2% which is less compared to the stae level (5%).
Educational Attainment
While there is no significant difference between residents of Erie County with chronic alcohol consumption behavior according to varying education levels, there is a slight (1%) higher average for residents with some college/associates degree (8%) as compared to statewide averages (7%).
Income
The largest outlying category among residents of Erie County with chronic alcohol consumption behavior according to varying income levels is among residents earning between $25,000 to $49,000 per year. Chronic alcohol consumption among that income bracket is 4% less than state averages.
Over Time
Chronic alcohol consumption fell between the 2015-to-2017 and 2017-to-2019 year bands, by -2% for the entire reported population. The level of at-risk drinking behavior increased to 8% between 2019-2021 year band for the reported population. A note to the limited scope of these variables' trends: according to the PA Department of Health, "In 2011, a new weighting methodology was adopted along with the inclusion of cell phones in the survey. Due to this change, statistics for years prior to 2011 should not be compared to statistics from 2011 to present."
EVS Indicators
EVS analyzes the data in each topic category using indicators, which report a targeted and digestible number, rate, or amount to represent Erie County as a whole. While this does not cover every aspect of the topic, it assists in establishing Erie's performance relative to the prior year(s). The indicators for the Health: Alcohol Use topic are: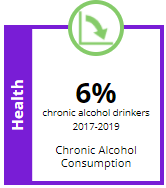 This indicator measures the percentage of Erie County residents reported as having heavy alcohol consumption (consuing 2 or more drinks every day). The trend for Chronic Alcohol Consumption was down and better for the 2017 to 2019 period with a reported decrease of -2.0% within the County.
How does Erie compare to Pennsylvania?
About this Data
Data from the PA Department of Health as of 2/2023.